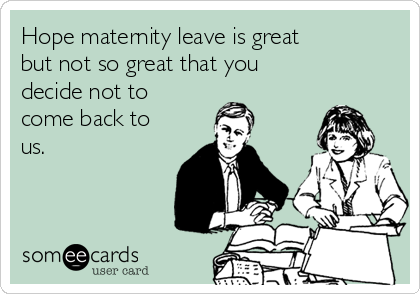 Maternity or paternity leave–one of the few things in life we can typically plan for! There's ample warning, but it can easily sneak up on you. It would be great if everyone could work ahead and have everything under control, but that's not reality and often impossible. When you, or your employees, expect to take this parental leave, don't wait until the last few weeks to wrap things up. Planning ahead before leave ensures you cover responsibilities and jump-starts a successful return to work later. This planning impacts all players on the team but falls into the hands of the employee taking parental leave, and their manager.
The employee and manager should meet a few months ahead of the planned leave. Develop a list of all current tasks and brainstorm who is completing what during parental leave. The easiest way to visualize this is through a chart or spreadsheet that can be shared as a Parental Leave Plan with other employees. Break down tasks into ongoing responsibilities and special projects. List at least four columns, including:
1. The task/project
2. Who is responsible in the interim – assignee?
3. Needs to make it happen – training, materials, information, access
4. Notes for the assignee – deadlines, where, how
After the manager and employee have agreed upon the chart, check with those who will help cover – do they need additional training, information or materials to assist? If possible, have the interim assignee start assisting with tasks prior to leave, so they can still ask questions.
Include tentative dates for leave and return to work. The manager should update these when confirmed. Make sure everyone involved has a copy of the plan and file it somewhere easily accessible for all. The sooner the better, as nature doesn't always wait for our work schedule to calm down! When questions arise, other employees can be referred to the Maternity/Paternity Leave Plan to answer questions like, "Who handles this while Cassie is out?" "Derek is on leave; how do I do this?"
Employers must provide accommodations and flexibility to compete in a tight labor market. This may impact family leave policies. Find out more about total wellness and comprehensive benefits in our November 15, 2019 webinar. Click here to learn more: Total Wellness and Comprehensive Benefits Webinar.