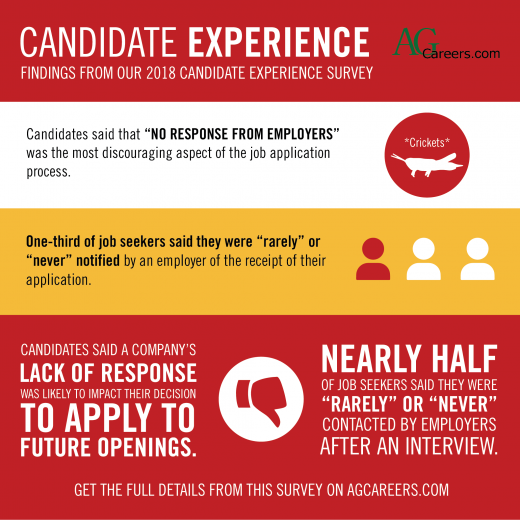 What's the most discouraging aspect of the job application process? Crickets! Candidates said, "no response from employers" was the most likely cause of a negative experience. Digging deeper into employers' responsiveness in the 2018 Candidate Experience Survey, AgCareers.com asked candidates how often employers notified them about the receipt of their application. Unfortunately, one-third of respondents said they "rarely" or "never" heard from employers with a confirmation receipt indicating follow-up.
When a company doesn't respond to an application, we asked candidates how this impacts their decision to apply for future openings with that company; the clear majority (87%) indicated a company's lack of response was likely to impact their decision. Forty percent said a company's lack of response made them very unlikely to apply to future openings.
And who's more affected by lack of response? We found that employed candidates, passive candidates, and those that took longer to apply were significantly more impacted by a lack of response to their application materials.
AgCareers.com asked survey respondents how often employers contact them after an interview, even if they don't receive an offer. Nearly half (43%) said they were "rarely" or "never" contacted by employers after an interview. Interestingly, respondents over the age of 60 were more likely to say they never heard back.
We asked participants if an organization has ever asked them to give feedback on their candidate experience with them. The clear majority (78%) said no. So, the clear majority of agriculture and food candidates are not asked for feedback on their candidate experience.
Does follow-up really matter if you are rejecting a candidate?
Even though a candidate doesn't make the cut for a current opening, there is a chance they will be a fit for a future opening with your organization. AgCareers.com asked candidates if they had ongoing engagement and communication with employers even if they aren't offered the current job opening. Eighty-four percent of candidates said they had some form of continued communication with employers, even if they were rejected for the current job opening.
Find out more about improving your candidates' experience; view the full results of the 2018 AgCareers.com Candidate Experience Survey here.