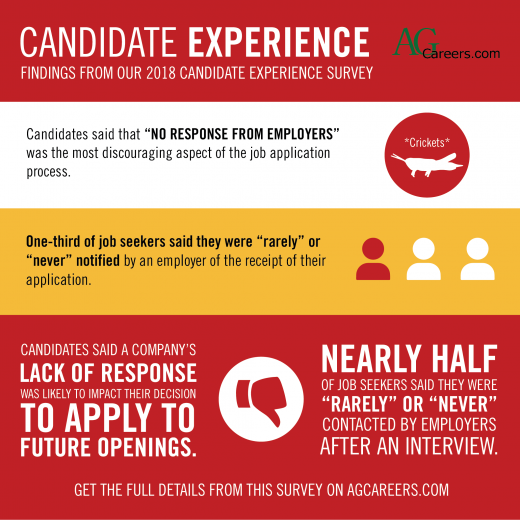 What's the most discouraging aspect of the job application process? Crickets! Candidates said, "no response from employers" was the most likely cause of a negative experience. Digging deeper into employers' responsiveness in the 2018 Candidate Experience Survey, AgCareers.com asked candidates how often employers notified them about the receipt of their application. Unfortunately, one-third of respondents said they "rarely" or "never" heard from employers with a confirmation receipt indicating follow-up.
When a company doesn't respond to an application, we asked candidates how this impacts their decision to apply for future openings with that company; the clear majority (87%) indicated a company's lack of response was likely to impact their decision. Forty percent said a company's lack of response made them very unlikely to apply to future openings.
And who's more affected by lack of response? We found that employed candidates, passive candidates, and those that took longer to apply were significantly more impacted by a lack of response to their application materials.
By Bonnie Johnson
Published on April 9th, 2019

Read More